They now have the wifi internet fixed in the hostel where I'm staying, called Jacobs Appartments. A very nice place, with attached bar, good security (very important when travelling with laptop and video camera) but they have an outdoor terrace heated by bar heaters which appear to be on all day and all night, and the radiators in the dorm are left on all day, so very wasteful of energy. Norway has oil, so maybe energy is cheap here. Pretty much everything else is very expensive.
I've been here for a week so I'm not using my one month interrail pass, which is a bit of a waste. The trains to Oslo aren't running due to a derailment last week, though I think there is a replacement bus service so I could get there if I needed to. Oslo is 7 hours away on the train, probably even longer by bus. This is quite an isolated place. It feels a bit like some places in Canada, particularly a place called Tofino on the West of Vancouver island. It also rains a lot here. There's a 95% chance of rain every day. Or snow, though at the moment it's not very cold. The sea and the gulf stream keeps Norway a lot warmer than you might expect, and I think even up in the very North it's not really really really cold. Just talking to a guy from Mongolia who says it's much colder in Mongolia than here. (You don't meet many people from Mongolia usually, unless you happen to be in Mongolia. Then you'd probably meet quite a few. He's been working up in the north of Norway, or about half way up, doing seasonal agricultural work in the mountains, the kind of work not many Norwegians want to do, he says.)
That's where I'm planning on heading. There's a coastal steamer that goes up the coast, from here up into the arctic circle up to the most northerly point in Europe. The prices are a bit steep, but if I head off on a Thursday, Friday or Saturday I get a 60% discount off the fare, though still have to pay for the cabin and for breakfast (which will be a help yourself buffet so with baggy clothes I may be able to walk away from breakfast with lunch and dinner as well.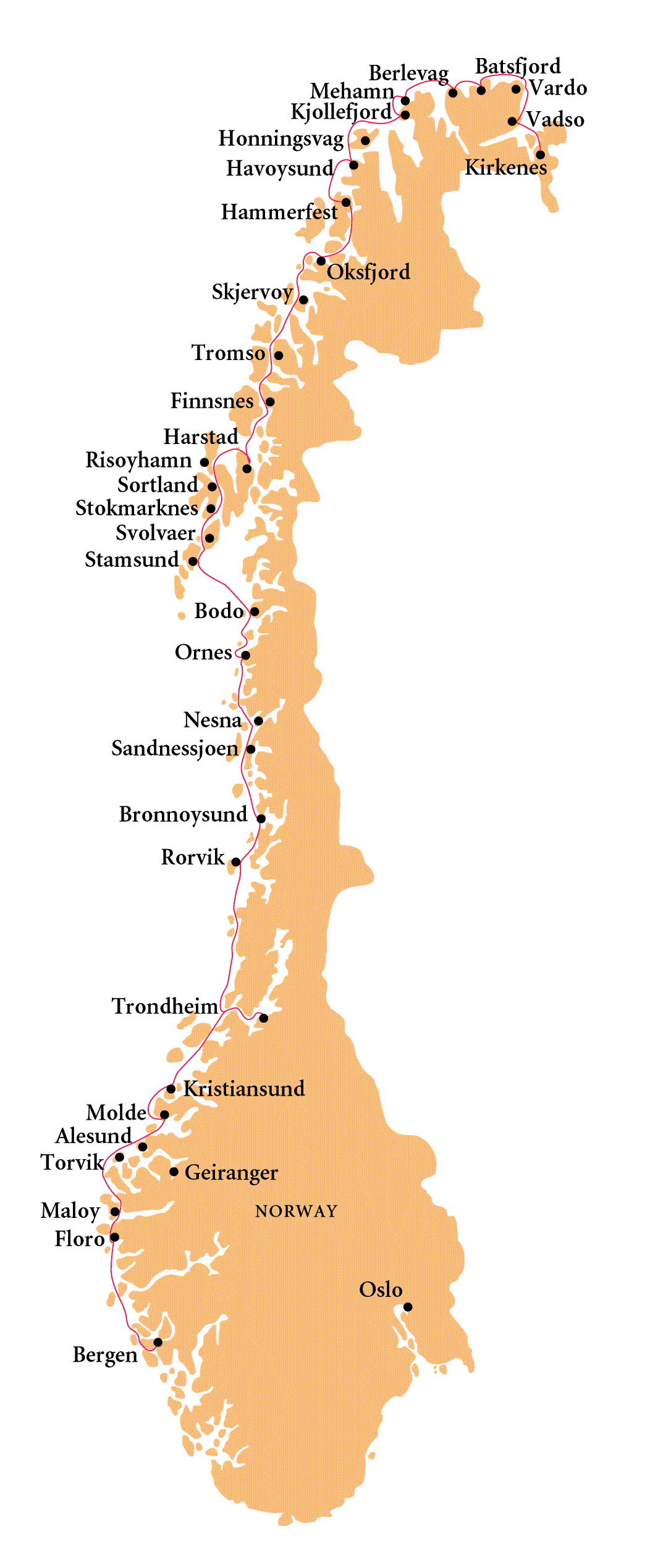 I'll have to do the trip in two legs to get the 60% discounts, so first leg is Bergen to Bodø, then I stay in Bodø until the following Thursday and then get another boat for the second leg up to Kirkenes, which is right up past the top on the Finnish border. Then I'm not sure. I probably haven't got my moneys worth out of the interrail ticket, I've been travelling too slowly, so maybe it's better to just take trains when I need them, look into some other kind of rail pass. A Norwegian was talling me you can get big discounts on train fares if you book over the internet a few days in advance. Britain seems to have the most expensive rail travel in Europe, and hearing the news just now perhaps the least safe as well.
Off to book the boat ticket now.